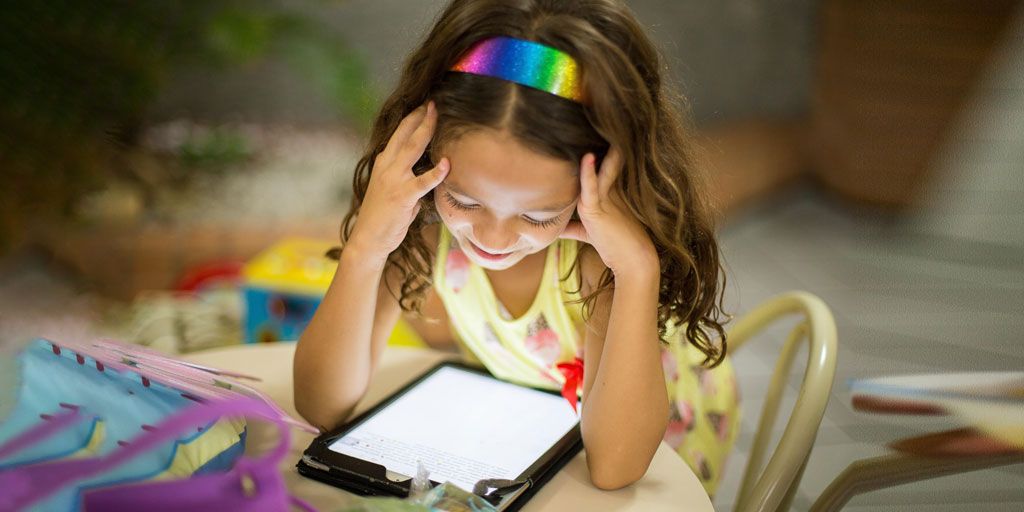 Innovative digital devices: an effective lever for reducing social inequalities
A scientific publication carried out after a large-scale experiment over 3 years shows that digital technology helps pupils from disadvantaged backgrounds to progress with the use of an intelligent tutoring system(ITS), such as Tactileo, in comparison with more traditional teaching methods and/or without using edtech.
Find out the main conclusions of the study, how and why the use of Tactileo contributes directly to the reduction of social inequalities, allowing those pupils facing difficulties, representing 20% of the students, to reach the level of their peers.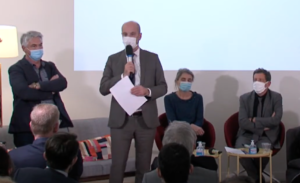 A successful collaboration between public and private actors to boost research around innovation in learning and the potential of digital technology in reducing social divides, the Ep3C project, presented to the Minister of Education Jean-Michel Blanquer on 15 November 2021, allows explicit conclusions to be drawn on the contributions of digital tools to learning, regardless of the personal and social background of the student.
Winner of the e-FRAN call for projects, the Ep3C project was created to identify the effects, positive and negative, of the use of digital technology in teaching and learning practices. This study proves that the use of digital tools such as Tactileo leads to an improvement in knowledge acquisition that is as significant for pupils from disadvantaged backgrounds as for pupils from more advantaged backgrounds, reducing the gap in performance between the two populations by 20-25%. Furthermore, disadvantaged pupils who have been taught through ITS achieve a similar level of performance as pupils from more privileged backgrounds who have received conventional teaching, thus compensating for the socio-economic gap.
What is the e-Fran call for projects?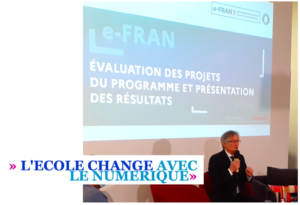 Personalisation of learning, development of collaborative work, instant access to a multitude of resources, game-based learning are all opportunities offered by digital technology that invite education stakeholders to question teaching and learning practices. In our omnipresent digital world,the e-FRAN call for projectsaimed to enrich the range of tools available to teachers to increase their range of action, while guaranteeing their pedagogical freedom, and thus enabling them to address heterogeneous audiences.
The e-FRAN projects therefore experiment with new ways of teaching and learning, based on innovative pedagogical and digital devices, all executed and measured within a rigorous scientific framework.
Maskott's value proposition in this landscape
Maskott is the publisher of the digital learning and intelligent tutoring platform Tactileo, used by several million students and several tens of thousands of teachers in France since 2016 and more recently abroad.
Tactileo is the result of collaboration with researchers in behavioural sciences, particularly in the fields of experimental social and cognitive psychology, neuroscience and computer science, with the aim of designing solutions for all trainers or teachers in a learning situation and for a wide range of audiences.
The observation that classes are heterogeneous leads to the proposal of tools for teachers enabling them to implement differentiation and personalised remediation mechanisms.
In this context, intelligent tutoring systems (ITS) can provide specific assistance to certain students (hints, remediation, customisation of the course according to the student's response) without disrupting the teacher's time and lesson.
For example, this can be achieved by offering different ways of presenting the same learning object, more formal or more playful, more editorial or more graphic.
Therefore, a bit like a tutor, tools like Tactileo have the potential to lead the student to carry out a pedagogical activity, to provide him with relevant feedback on his actions and answers, and to lead him to different activities according to his reactions. Tactileo has therefore quite naturally found its place in the eco-system set up around the e.P3C project, around the 3 so called 'C's (in French): Contexts, Skills and Behaviours.
Numerous experimental works had already underlined, without ever demonstrating it, the interest of a plurality of learning contexts to optimise the school performance of all pupils.
It is now a fact! The project demonstrates that digital technology facilitates the management of social heterogeneity through the creation of a plurality of learning contexts, in the same unit of time and place: the classroom.
How is this achieved? A unique learning object (such as a physics principle, biological phenomenon, historical episode…) is presented in different modalities (from the most formal to the most playful, from the most theoretical to the most concrete), to increase understanding by all students, with an intelligent tutoring system capable of proposing recommendations according to each student's choices, mistakes and successes in each of the proposed modalities.
An experimental methodology that provides evidence
Starting from the observation of a discontinuity between performance and competence (only performance is observable and competence may not be expressed for lack of a favourable context), the methodology of the e.P3C project consisted in comparing the results of ITS user students with those who are not users (free pedagogy) or exposed to an innovative pedagogy, but outside ITS. This was done taking into account the initial level of the students, their socio-economic status, their self-assessments, their working memory capacity, etc.
The e.P3C project has mobilised a whole eco-system of public and private actors:
38 schools, 250 teachers in 8 topics, 8000 students
2 UMR (UCA-CNRS): LAPSCO and LIMOS
2 Edtech: Maskott and Perfect Memory
2 support structures: MPSA and IREM
140 working meetings between 2017 and 2021
The pedagogical activities related to the use of ITS have generated nearly 5 million user traces in 4 years. These data, stored in a trace warehouse, allow a detailed analysis of student activity.
The data for this study were collected around different devices:
Standardised assessments of knowledge and skills by subject (at the beginning and end of the course)
Self-assessment tests to understand self-perception and motivation
Cognitive tests to analyse metacognitive skills such as reading comprehension and working memory assessment.
A wide audience listened to the results
At the end of the e-FRAN mission, the Ministry of National Education, Youth and Sports hosted on Monday 15 November 2021 the restitution of the evaluation of the e.P3C programme, the results of which were presented to the Minister Jean-Michel Blanquer, in the presence of Jean-Marc Monteil (Head of mission on digital EN), Olivier Vandard (General Secretariat for Investment), Thierry Coulhon (HCERES: High Council for the Evaluation of Research and Higher Education) and the project leaders.
Invited to comment on this experiment, Jean-Michel BLANQUER, Minister of Education, acknowledged that it had "all the ingredients of what we want: rigour in the service of a major challenge based on the usefulness of digital tools, making it possible to banish all magical thinking about digital technology". He emphasised "the creation of a scientific dynamic dedicated to the educational professions that opens up the school system and involves all its players" and contributes to building "a philosophy of digital education that is based on what works and what does not". "Yes, we are getting results and we are getting results on a significant scale. We must continue to create advance guards to pull the system forward", concluding that "there is no fatality in the fight against inequalities".
"The Minister of National Education stressed the importance of pedagogical tools such as those we have built in the fight against social inequalities and their major role in the elaboration of a strategy for the development of an inclusive digital education. We are now extending this work by making digital content available to teachers who wish to use it on a shared platform.
A first scientific publication in a world-class journal
A first paper was published in the international peer-reviewed journal "Journal of Computer Assisted Learning – JCAL" in November 2021. Further publications are currently being submitted.
The article shows that the performance gaps in standardised tests between students from advantaged and disadvantaged backgrounds do not decrease with the digitalised strategy of multiple contexts, keeping the socio-economic achievement gap constant, as both groups benefit equally.
These results were compared to those of a cohort of students who had completed activities with conventional teaching, with or without the use of digital technology.
The development of the use of digital education is therefore a means of serving a strategy of multiple learning contexts to enable all students to better express their potential.
But the main lesson is that disadvantaged pupils exposed to this digital strategy of plurality of contexts increase their results sufficiently to achieve results similar to the pupils from privileged backgrounds receiving conventional teaching. Worded differently : a student from a underprivileged background can, thanks to Tactileo, reach similar results to those coming from more privileged backgrounds receiving a conventional teaching. In other words, a pupil from a disadvantaged background is allowed to express his or her potential that would not have been expressed with a traditional education.
A second result, published in Plos One, also shows that carrying out activities using multiple modalities to present knowledge benefits students with a higher working memory span when using digital technology. This result is especially true for science topics.
An essential co-construction with education actors on the ground
Another lesson from this study is the importance of collaborative construction of digital solutions for education. It must involve teachers, managers/researchers and Edtech players, right from the design stage of the tools. Pascal HUGUET, Director of the LAPSCO(1) , who presented the study, emphasised this fieldwork: "Yes, it is a lot of work in the field, but yes, it is possible and yes, we can obtain good results when we work hand in hand. "We are still quite often confronted with companies that offer things to schools without having really taken the time to discuss with teachers,  the first users of such tools. The tool existed, it is called Tactileo and we are very happy to have worked with Maskott. But a number of functions had to be developed and now we have a real collective product whose benefits you have seen. The collaboration between Maskott and the LAPSCO will continue over the next few years, with the setting up of a CIFRE thesis.
Pascal HUGUET concludes that "the major result of this study is to see pupils from disadvantaged backgrounds rise to the same level as more advantaged pupils but deprived of the digital strategy for experimental reasons".
Delphine PAILLER, regional educational inspector for the Clermont-Ferrand academy, who led the working group of physics and chemistry teachers who designed more than fifteen different modules on the Tactileo platform, expressed her satisfaction at seeing the e.P3C project highlighted among the 22 e-FRAN projects, in its contribution to the study of the positive impact of digital tools on learning.
"The Minister of Education underlined the importance of pedagogical tools, such as those we have built, in the fight against social inequalities and their central role in the elaboration of a strategy for the development of inclusive digital education".
MORE INFORMATION
Other projects have presented results that support the improvement of students' skills through digital technology
LEMON(LEcture Mathématique Outil Numérique) is led by Johannes Ziegler's team at the CNRS's Cognitive Psychology Laboratory (LPC). Its ambition is to propose digital solutions in reading and mathematics within the school, focusing on individualised and adapted practices in order to reduce learning difficulties, disparities between pupils, drop-outs and failure at school.
FLUENCE, supported by the CNRS Alps Delegation and Sylviane Valdois, aims to develop and validate innovative digital devices used in the classroom as pedagogical tools to adjust to the needs of each child in order to optimise learning.
LINUMEN(LIttératie et NUMératie Emergentes par le Numérique), supported by the University of Lorraine and Youssef Tazouti, is the design of a digital device to develop and strengthen skills related to emergent literacy and numeracy in preschool children. By differentiating the pupils' journeys, this device should make it possible to reduce cognitive inequalities linked to the social origin of the pupils and as a result to promote early school retention.
Watch the full video of the press conference- in French only
(1) Laboratoire de Psychologie et de Sciences Cognitives – CNRS.